When it leaves the heart, the aorta first moves up through the chest towards the head (the ascending aorta). It then bends or arches, and finally moves down through the chest and abdomen (the descending aorta).
Aortic dissection most often happens because of a tear or damage to the inner wall of the aorta. This very often occurs in the chest (thoracic) part of the artery, but it may also occur in the abdominal aorta.
When a tear occurs, it creates 2 channels:
One in which blood continues to travel
Another where blood stays still
If the channel with non-traveling blood gets bigger, it can push on other branches of the aorta. This can narrow the other branches and reduce blood flow through them.
An aortic dissection may also cause abnormal widening or ballooning of the aorta (aneurysm).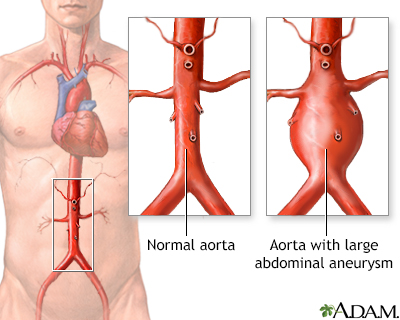 The exact cause is unknown, but more common risks include:
Aging
Atherosclerosis
Blunt trauma to the chest, such as hitting the steering wheel of a car during an accident
High blood pressure
Other risk factors and conditions linked to aortic dissection include:
Bicuspid aortic valve
Coarctation (narrowing) of the aorta
Connective tissue disorders (such as Marfan syndrome and Ehlers-Danlos syndrome) and rare genetic disorders
Heart surgery or procedures
Pregnancy
Swelling of the blood vessels due to conditions such as arteritis and syphilis
Aortic dissection occurs in about 2 out of every 10,000 people. It can affect anyone, but is most often seen in men ages 40 to 70.