You and your child's providers should work together as a team to create and carry out an asthma action plan.
This plan will tell you how to:
Avoid asthma triggers
Monitor symptoms
Measure peak flow
Take medicines
The plan should also tell you when to call the provider. It is important to know what questions to ask your child's provider.
Children with asthma need a lot of support at school.
Give the school staff your asthma action plan so they know how to take care of your child's asthma.
Find out how to let your child take medicine during school hours. (You may need to sign a consent form.)
Having asthma does not mean your child cannot exercise. Coaches, gym teachers, and your child should know what to do if your child has asthma symptoms caused by exercise.
ASTHMA MEDICINES
There are two basic kinds of medicine used to treat asthma.
Long-term control drugs are taken every day to prevent asthma symptoms. Your child should take these medicines even if no symptoms are present. Some children may need more than one long-term control medicine.
Types of long-term control medicines include:
Inhaled steroids (these are usually the first choice of treatment)
Long-acting bronchodilators (these are almost always used with inhaled steroids)
Leukotriene inhibitors
Cromolyn sodium
Quick relief or rescue asthma drugs work fast to control asthma symptoms. Children take them when they are coughing, wheezing, having trouble breathing, or having an asthma attack.
Some of your child's asthma medicines can be taken using an inhaler.
Children who use an inhaler should use a spacer device. This helps them get the medicine into the lungs properly.
If your child uses the inhaler the wrong way, less medicine gets into the lungs. Have your provider show your child how to correctly use an inhaler.
Younger children can use a nebulizer instead of an inhaler to take their medicine. A nebulizer turns asthma medicine into a mist.
GETTING RID OF TRIGGERS
It is important to know your child's asthma triggers. Avoiding them is the first step toward helping your child feel better.
Keep pets outdoors, or at least away from the child's bedroom.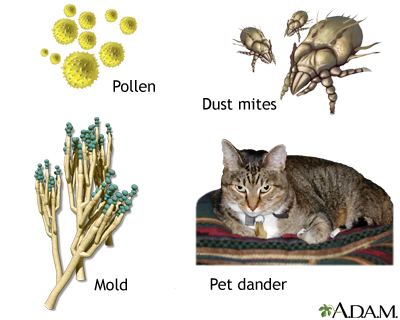 No one should smoke in a house or around a child with asthma.
Getting rid of tobacco smoke in the home is the single most important thing a family can do to help a child with asthma.
Smoking outside the house is not enough. Family members and visitors who smoke carry the smoke inside on their clothes and hair. This can trigger asthma symptoms.
Do not use indoor fireplaces.
Keep the house clean. Keep food in containers and out of bedrooms. This helps reduce the possibility of cockroaches, which can trigger asthma attacks. Cleaning products in the home should be unscented.
MONITOR YOUR CHILD'S ASTHMA
Checking peak flow is one of the best ways to control asthma. It can help you keep your child's asthma from getting worse. Asthma attacks usually do not happen without warning.
Children under age 5 may not be able to use a peak flow meter well enough for it to be helpful. However, a child should start using the peak flow meter at a young age to get used to it. An adult should always watch for a child's asthma symptoms.