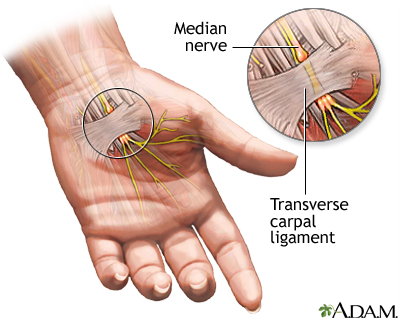 The median nerve provides feeling and movement to the thumb side of the hand. This includes the palm, thumb, index finger, middle finger, and thumb side of the ring finger.
The area in your wrist where the nerve enters the hand is called the carpal tunnel. This tunnel is normally narrow. Any swelling can pinch the nerve and cause pain, numbness, tingling, or weakness. This is called carpal tunnel syndrome.
Some people who develop carpal tunnel syndrome were born with a small carpal tunnel.
Carpal tunnel syndrome can also be caused by making the same hand and wrist motion over and over. Using hand tools that vibrate may also lead to carpal tunnel syndrome.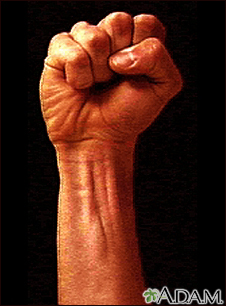 Studies have not proved that carpal tunnel is caused by typing on a computer, using a mouse, or repeating movements while working, playing a musical instrument, or playing sports. But, these activities may cause tendinitis or bursitis in the hand, which can narrow the carpal tunnel and lead to symptoms.
Carpal tunnel syndrome occurs most often in people ages 30 to 60. It is more common in women than men.
Other factors that may lead to carpal tunnel syndrome include:
Alcohol use
Bone fractures and arthritis of the wrist
Cyst or tumor that grows in the wrist
Infections
Obesity
If your body keeps extra fluids during pregnancy or menopause
Rheumatoid arthritis
Diseases that have abnormal deposits of protein in the body (amyloidosis)