The first treatment for a slipped disk is a short period of rest and taking medicines for the pain. This is followed by physical therapy. Most people who follow these treatments recover and return to normal activities. Some people will need to have more treatment. This may include steroid injections or surgery.
MEDICINES
Medicines can help with your pain. Your provider may prescribe any of the following:
NSAIDs for long-term pain control
Narcotics if the pain is severe and does not respond to NSAIDs
Medicines to calm the nerves
Muscle relaxants to relieve back spasms
LIFESTYLE CHANGES
If you are overweight, diet and exercise are very important for improving back pain.
Physical therapy is important for nearly everyone with disk disease. Therapists will teach you how to properly lift, dress, walk, and perform other activities. They teach you how to strengthen muscles that help support the spine. You will also learn how to increase flexibility in your spine and legs.
Take care of your back at home:
Reduce activity for the first few days. Slowly restart your usual activities.
Avoid heavy lifting or twisting your back for the first 6 weeks after the pain starts.
After 2 to 3 weeks, gradually start exercising again.
INJECTIONS
Steroid medicine injections into the back in the area of the herniated disk may help control pain for several months. These injections reduce swelling around the spinal nerve and disk and relieve many symptoms. They do not solve the underlying problem and your pain may return after weeks or months. Spinal injections are an outpatient procedure.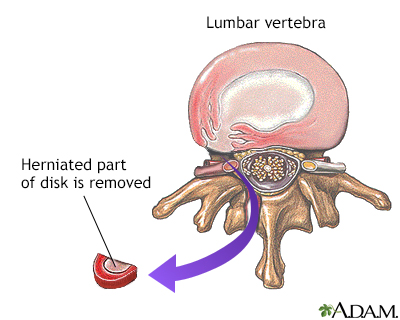 SURGERY
Surgery may be an option if your symptoms do not go away with other treatments and time.
One such surgery is diskectomy, which removes all or part of a disk.
Discuss with your provider which treatment options are best for you.