Mitral regurgitation is a common type of heart valve disorder.
Blood that flows between different chambers of your heart must flow through a valve. The valve between the 2 chambers on the left side of your heart is called the mitral valve.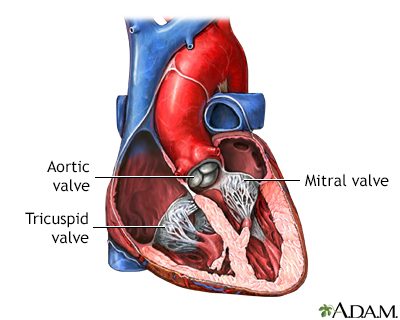 When the mitral valve doesn't close all the way, blood flows backward into the upper heart chamber (atrium) from the lower chamber as it contracts. This cuts down on the amount of blood that flows to the rest of the body. As a result, the heart may try to pump harder. This may lead to congestive heart failure.
Mitral regurgitation may begin suddenly. This often occurs after a heart attack. When the regurgitation does not go away, it becomes long-term (chronic).
Many other diseases or problems can weaken or damage the valve or the heart tissue around the valve. You are at risk for mitral valve regurgitation if you have:
Coronary heart disease and high blood pressure
Infection of the heart valves
Mitral valve prolapse (MVP)
Rare conditions, such as untreated syphilis or Marfan syndrome
Rheumatic heart disease. This is a complication of untreated strep throat that is becoming less common.
Swelling of the left lower heart chamber
Another important risk factor for mitral regurgitation is past use of a diet pill called "Fen-Phen" (fenfluramine and phentermine) or dexfenfluramine. The drug was removed from the market by the U.S. Food and Drug Administration (FDA) in 1997 because of safety concerns.